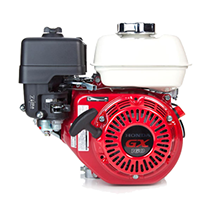 Fit the motor you prefer.
As stockists of Honda, Hoffmann, Dek, Kohler, Yamaha, CMG and Yanmar. We take pride in supplying you, your preferred solution
in motor or power plant.
Optimal Specifications
Optimal specifications for the power plant include a HP rating of between 4.7 and 5.5 horse power to run the standard compactor.
Optimal Speed
The optimal speed of the motor should run in the region or 2850 to 3000 revolutions per minute. Once exceeding the 3000 rpm range the life expectancy of the eccentric assembly and bearings are drastically reduced.